Main page » Objects »

Business center «Navigator».
Business center «Navigator».
Business center «Navigator» is located in the historical center of the city, on Vasilievsky Island. This is a modern building, implemented in the XIX-century style of architecture. The proximity of subway and convenient access are one of its strongest advantages in choosing the location of the future office building. Planning of all rooms is comfortable and functional, equipped with modern facilities to create a microclimate.
Business center «Navigator» is our own realized investment project. During its construction, «Baltic Engineering Company» performed the function of a General contractor, General designer and Technical customer.
Construction was carried out in the straitened conditions of the existing urban area, adjoining to the two firewalls of the neighboring houses, which caused the need for the General Contractor to strengthen these buildings to ensure the safety and preservation of the architectural foundation of the city.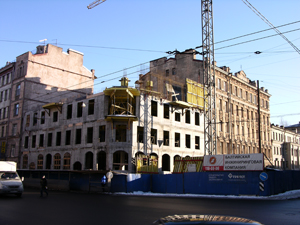 Specific geographical feature was another difficulty. Under the construction area an underground river runs. However, this problem was overcome by General Contractor with the installing 32metres piles that could withstand three such houses.
Since the purpose of the «Baltic Engineering Company» during the implementation of projects is to meet all the requirements of environmental protection and respect for the nature of the historical city center, the construction of "Navigator" was accompanied by transplanting trees, that decorate the appearance of the district.
Factual information:
• The total area of 4 000 m2.
• Number of storeys: 8 floors.
• Ceiling height 2.7 m
• floor area of 360 m2.
• Modern heating, ventilation, air conditioning and fire safety.
• Fiber optic telecommunications.
• Integrated security, 24h access.